FIREGOLD COMPANY LTD
Trade These Shares Thru http://firegold.net/about-us/trading-jenkins-exchange/    44 – 20 -74690930
These newly listed shares are poised to advance based upon our findings . The company has a superior management team in place , several valuable properties, and a large capital infusion .
We urge our subscribers to seriously consider all aspects of this company.
We initiate coverage of FireGold Company LTD with a STRONG BUY RATING 
Strategy
FireGold is headquartered in Toronto Canada. We provide a competitive advantage in the mining industry by creating real value through sustainability. We are committed to a strong, sustainable future for local communities. We say what we do and we do what we say.
Firegold Company Ltd. is a corporation with a focus squarely targeted on the mining industry for the purpose of participating in the production of precious metals. The Company's Business Plan is to identify strategic opportunities in mining companies and/or projects that are at the advanced exploration stage and especially those on the brink of a production decision.
The Plan also outlines the participation in the equity of these ventures through various legal models, such as; joint ventures; co-ventures; direct shareholdings; partnerships; secured lending relationships along with other possible financial commitments or arrangements. The Company's expertise lies in securing and providing the necessary working capital in conjunction with the business acumen and support in order to empower the targeted company and its management to achieve its operational goals.
The Board of directors and Management Team have a wealth of experience with respect to the exploration and development of mining projects.
They provide strategic direction to ensure long term growth. Find out more about our management team, including their background and experience

.

PROPERTIES
Maniema is a key regional town of the DRC. Firegold has completed an acquisition of a 75% share in the Gold Project in the Maniema Province, in the city of Punia, near Kindu. Our concessions are accessible by road through Kisangani and Bukavu ,by flight via Kinshasa, Kisangani, and Bukavu in the Democratic Republic of Congo. We have the advantage logistics gateway to Uganda and, to key international ports such as Mombasa in Kenya, and Dar-Es-Salam in Tanzania
With the exception of informal artisanal activity there are no current or historical formal mine
workings, tailings ponds or waste dumps located on the Firegold Mining Property
The permits and approvals required to conduct the work at Firegold Mining property are specified in the DRC Mining Code. Such permits and approvals have been obtained. Firegold Mining has acquired through four exploitation permits (PE), the exclusive mining rights provided by DRC government. These exploitation permits give Firegold Mining exclusive rights to carry out exploration, development, construction and exploitation works for a period of 30 years, renewable.
649 square kilometers define firegold property in the Maniema region with a proven Mineral reserve of Gold, Diamond and Coltan (columbite–tantalite)
Our Concessions are located in a region that also hosts Twangiza project from Banro Corp., Vector Resources LTD., Kibali project of Rangold Resources, Ashanti Gold and others.
The Mineral Resource base is considered to be well known. An estimated $28 billion worth of gold lies under the soil in eastern Democratic Republic of Congo. MAP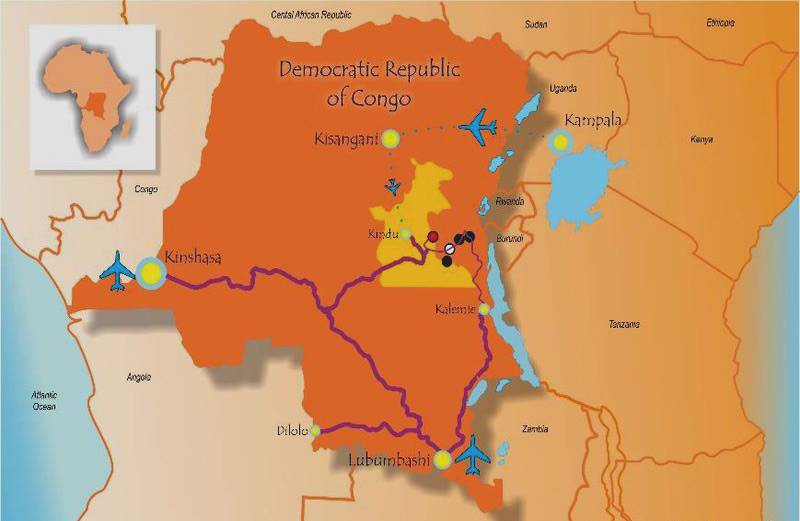 Montana USA
The location of the Tamarack Gold Property is approximately four (4) miles northeast of the town of Sheridan, Montana located in the low rolling foothills of the Tobacco Root Mountains. The Tamarack Gold Property has been explored since the 1860's with intermittent small scale production starting in 1875 to current times.
Firegold has a 49% working interest in the Tamarack, lode gold bearing, Property with a financial commitment to fund
the property upgrading capabilities from 60 tpd (tons per day) up to 300 tpd .
About MiningNewsReporter.com : 





MiningNewsReporter.com

 is a

 

subsidiary of Target Publishing Inc, and is a leading publisher of todays market and investment news, commentary, proprietary research and videos from seasoned journalists, analysts and contributors covering the financial markets and global economies. Leveraging our extensive distribution network and social media presence, we have

cultivated a valuable audience

 

of engaged market enthusiasts

, which in turn delivers a variety of unique opportunities for industry partnerships, corporate comm

X

unications, market exposure and investment.

 We are paid cash for this distribution.



A complete disclaimer can be viewed

HERE